explore vision I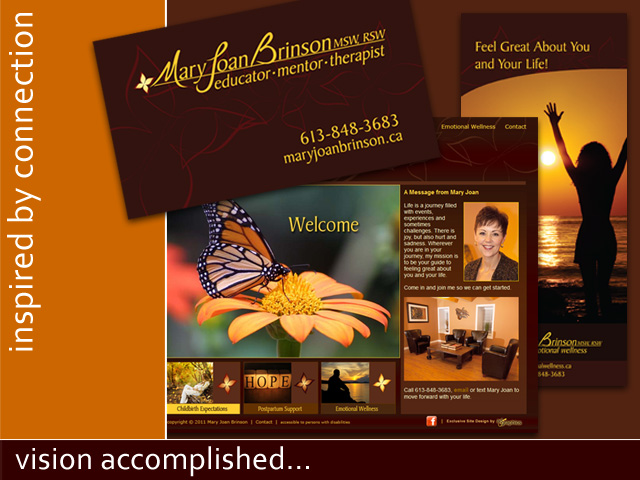 A most exciting & rewarding challenge was designing a series of websites allowing viewers to easily connect with each of the three branches that encompass Mary Joan Brinson's Therapy Practice.

The beautiful imagery & colour themes lend a distinct & inviting warmth, while maintaining a professional element in print and on her websites.

AdGraphics has also helped Mary Joan reach out, connect & inform via business cards, multi-page booklets, rack cards, signage and more... maintaining a cohesive look & feel that identifies & promotes all aspects of her therapy practice.
what our clients are saying...
"I have had the pleasure of working with Kim Whalen and her AdGraphics' team since 2007.

I was establishing a private psychotherapy practice and Kim was so skilled at assisting me in refining the essence of my service. She masterfully developed a plan of how to deliver my message in a way that was authentic to who I am and how I work. She captured it so beautifully and perfectly. You know something special has happened when you see your website for the first time and you feel overcome with pride and joy.

Kim has provided a level of service, attention to detail and skill and talent that has been instrumental in helping me to build my business.

I wholeheartedly recommend her services - you will get an amazing product, whether it be stunning business cards, an amazing website or a lovely new logo - but you will be most impressed with the quality customer service and support you receive."

Mary Joan Brinson
Belleville, ON